New Disclosure Tracking Platform Announced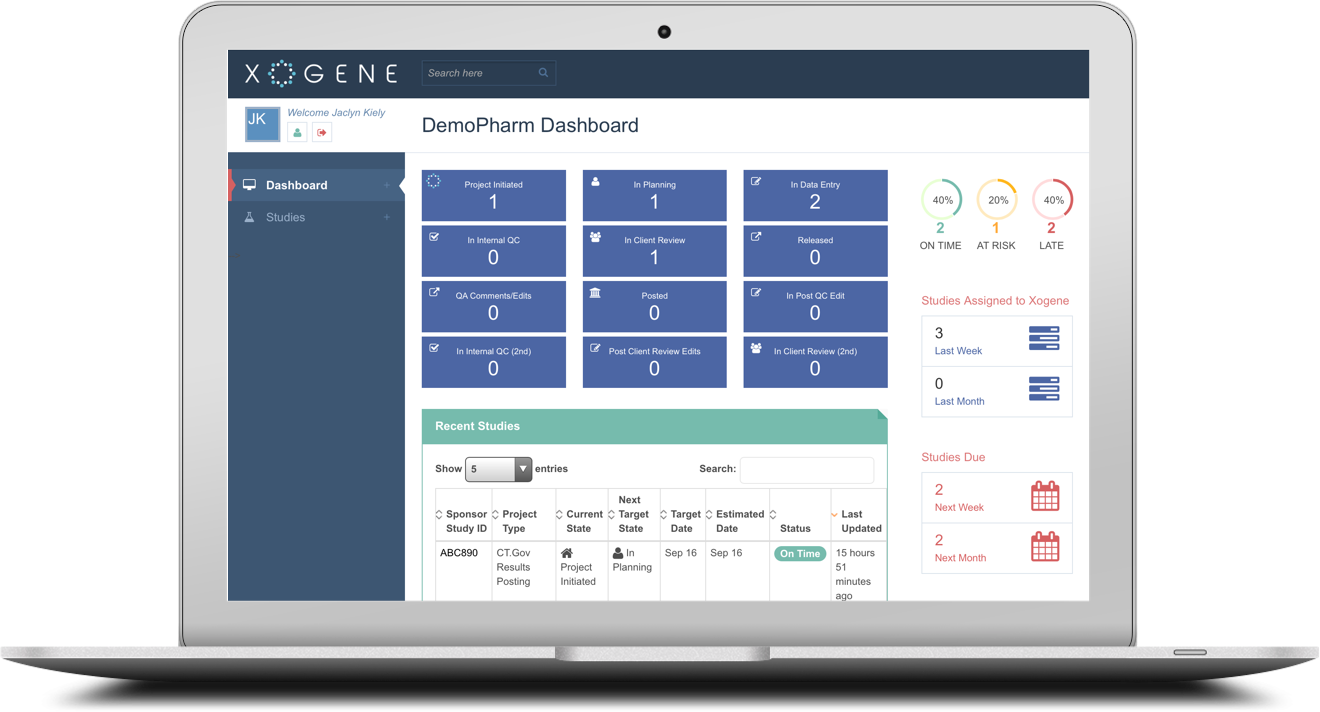 Simplifying the disclosure process.  
Xogene is pleased to announce the launch of the new Xogene Tracker, an easy-to-use yet comprehensive online tracking system for Clinical Trial Disclosure and Transparency projects.
Available to sponsors as of September 2015, the Tracker offers a clean, user friendly dashboard that provides at-a-glance as well as detailed views of study information, quick access to key metrics, visual displays of timelines, automated compliance date calculation, workflow audit trail and more.
With regulatory oversight of the disclosure environment tightening, sponsors cannot afford to lose valuable time or money in inefficient processes. However, many continue to struggle with basic oversight, finding it difficult to know where along the disclosure timeline a study or studies may be. Their teams are often managing multiple spreadsheets and/or receiving data from several individuals, CRO's or databases which can add layers of complexity to an already complicated area of work.
"In an environment where ever-expanding regulations and increasingly complex processes are the norm, managing timelines for compliance and oversight of individual studies can be challenging," says Woo Song, Chief Product Officer at Xogene. "Spreadsheets and calendars are helpful but often become cumbersome and unwieldy, opening the door to risk by allowing compliance windows to slip by undetected. The Xogene Tracker lets sponsors take control of the internal and outsourced mechanisms guiding their disclosure processes."
Woo continues, "The Xogene Tracker does not replace in-house or third-party disclosure systems. It is merely a simple and elegant tracking and management platform that eliminates messy spreadsheets, excess email communication and manual metrics building exercises."
For more information or a demonstration of the Xogene tracker please contact us at [email protected]
About Xogene:
Offering flexibility, in-depth regulatory knowledge, and technical expertise in the area of Transparency and Clinical Trial disclosure, Xogene  can structure complete or supplemental outsourcing of Disclosures activities, provide management consulting, and deliver technology-driven solutions to suit each sponsor's needs.
Got questions?
We're here to help.
Got questions?
We're here to help.
By submitting this form, you agree to Xogene's Terms of Service and Privacy Policy and also agree to receive emails from Xogene on educational resources, events, and product updates. You can unsubscribe at any time.
Clinical Trial Transparency and Disclosure
Medical Writing & Plain Language Summary
EU CTIS Submission Support

10 Sterling Boulevard
Suite 301
Englewood, NJ  07631
©2023 Xogene Services LLC